Nurse Call Solutions
An effective and convenient way to stay in close contact with your residents and patients. 
At Carecom, we design advanced Nurse Call solutions, using industry-leading Nurse Call Systems, to help healthcare facilities improve their processes, safety and the quality of resident care. As a CareTech Systems partner, we are able to offer specially-designed systems that meet the specific and diverse needs of the Australian market.
Our IP Nurse Call Systems allow for real-time, 24/7 monitoring, sending messages and alerts back to both the facility's IT staff and our team at Carecom when any issues arise. 
Each Nurse Call point on the IP system is fitted with Real-Time Location System (RTLS) hardware, allowing nurses to check-in to the room automatically upon entering, which will advise other staff the someone is attending the the needs on the resident/patient and also tracking the exact time the staff member is spending with in the room.
Carecom can provide both full IP and serial Nurse Call Systems for your facility. Both are designed for future system scaling and expansion and offer integration with RTLS along with the capability to have wireless integration.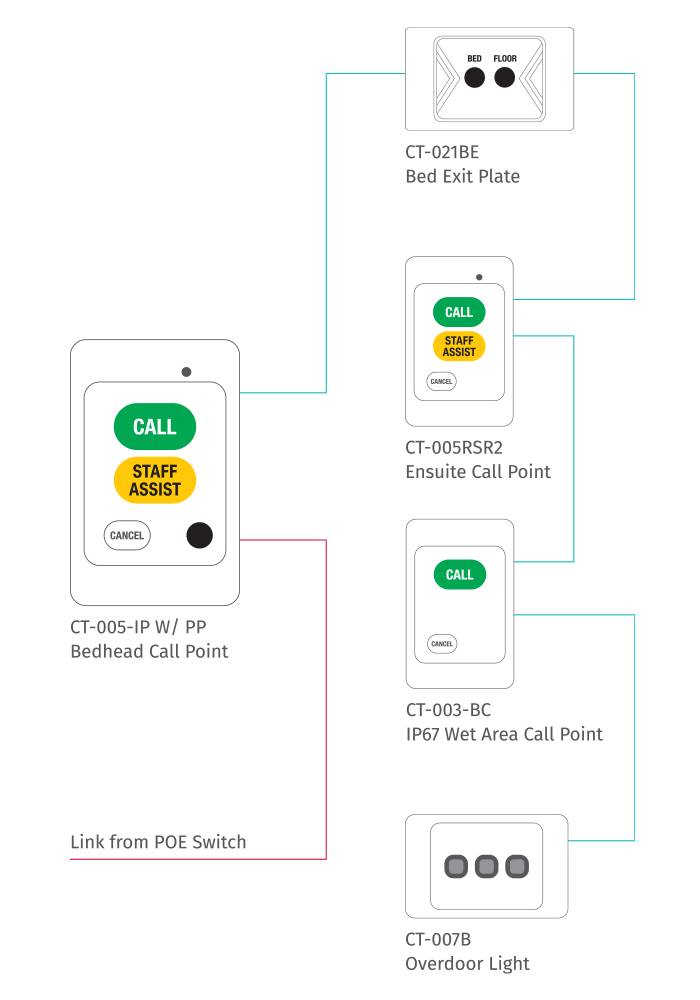 Carecom offers reliable and robust Wireless Nurse Call solutions for healthcare facilities where the existing cabling is not up to standard or new cabling is not permitted.
The Wireless Nurse Call System is compatible with Carecom accessories and has the following features:
Compatibility with CareTech IP and serial systems

24Vdc hard-powered

Used with a double button, pear push pendant

3 x inputs with contact to ground

1 x output with the ability to switch electronic relay and turn on/off overbed light

Call points available in a range of configurations

9V lithium battery with a 12-month battery life

Battery cable hook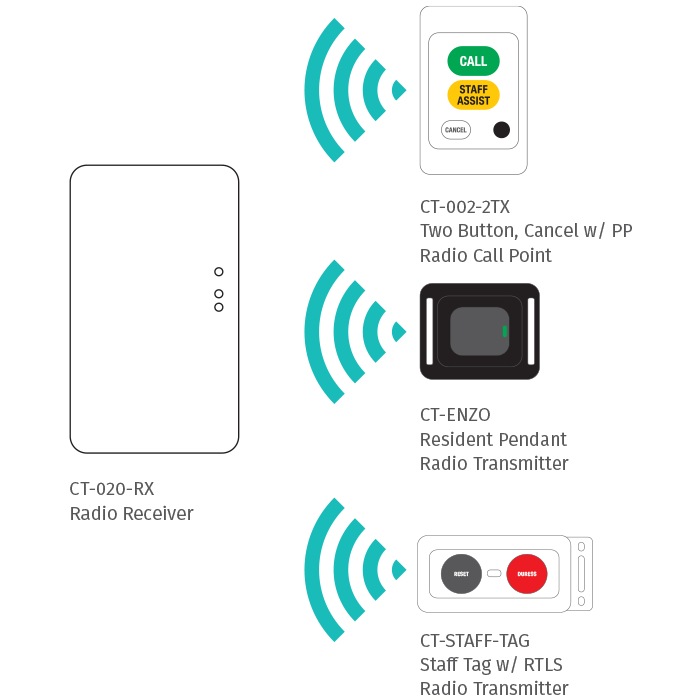 Real Time Location System
Keep track of staff or residents in your facility.
Real-Time Location Systems (RTLS) allow your staff and residents to move freely while collecting their location as they move through a tag with built-in RFID technology – so you always know where they are. 
RTLS is built into the hardware of all hardwired CareTech Nurse Call points, and can also be overlaid on a wireless system or provided as a stand-alone system, specifically designed for healthcare environments. Ideal for asset tracking and management, the RTLS allows for automatic 'staff presence' events, recording the amount of time your staff are spending with residents for your reference. 
Designed for flexibility, the RTLS features can be activated or deactivated by the Nurse Call software as needed. Increase the safety of your residents and improve staff response times by always knowing the location of everyone in your facility.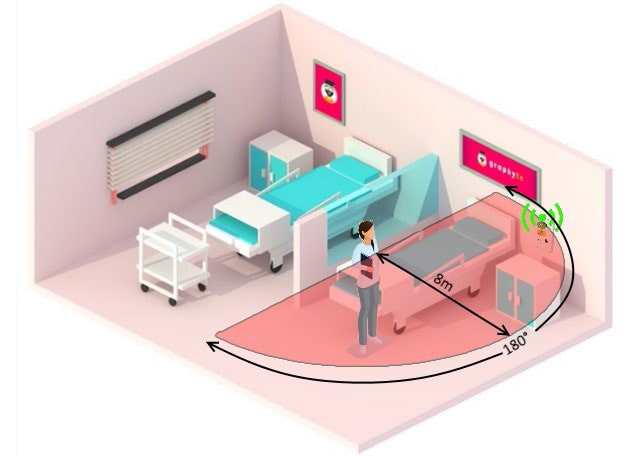 Middleware Integration Solutions
Local Alarm Solutions (LAS) is a middleware integration software that connects to almost any system, enabling you to improve the communication and reporting between multiple different systems at your facility. 
An open-source system, LAS integrates easily, becoming the centralised reporting platform for all your important systems, including; Nurse Call systems, fire alarm systems, android phones, DECT paging systems, email and more. 
Simply use the Dashboard to see an overview and status of all systems, set up automatic reporting, or generate a full suite of expansive reports to see the history of all calls. These reports can be automatically emailed to management staff as required. Carecom also monitors all sites in real-time, enabling us to detect issues and notify your facility management if required for a swift resolution.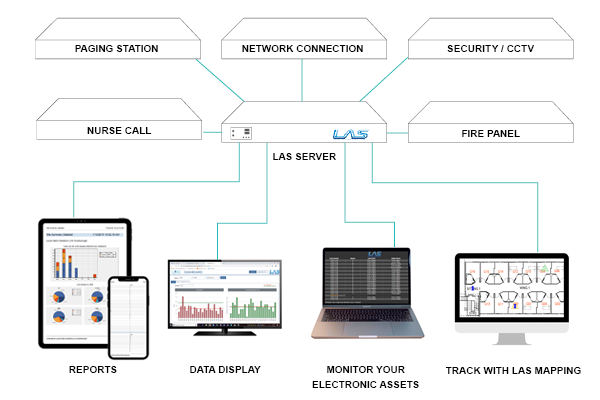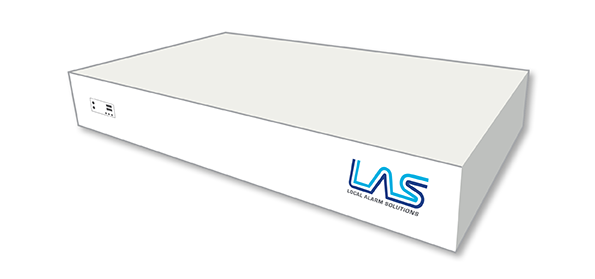 When a certain event is triggered, LAS uses its customer-programmed rules to activate an alert. LAS can send emails and text messages on local DECT or GSM phones, or send a message to a large display board, ensuring the responsible staff or teams are notified immediately.
We understand the importance of immediate response times and offer a 24/7 monitoring service, allowing us to alert facilities if any alarms have gone unnoticed.
If a critical device on the Nurse Call goes offline, automated reporting will be sent to site maintenance staff along with Carecom Solutions to notify of system errors.
If you are having trouble communicating between different systems at your facility, talk to us about a LAS system today.
Reporting
Simple, fast and automated reporting solutions
Our LAS solution enables healthcare providers to quickly access the data they need to understand the health of their facilities.
This solution delivers a full suite of standard reports that can be customised to suit the user's, or facility's, needs and environment. No more wasting time trying to access and create the required reports, each report can be scheduled to be delivered when you need it, easily giving you the information you need to take the right steps to improve your operations and the care in your facilities.
Our HTG team will work with you personally to create a delivery system that suits you; scheduling and automating reports to be delivered to the right people at the right time, making the LAS system do all the work, so you can simply put the data into action.
This solution delivers valuable data, including:
Alarm Duration & Frequency (Daily & Weekly)

Attendance & Time Tracking

List of Alarms

List of Operational Alarms

Number of Alarms (per ID & Type)

Response Times and Time of Care Given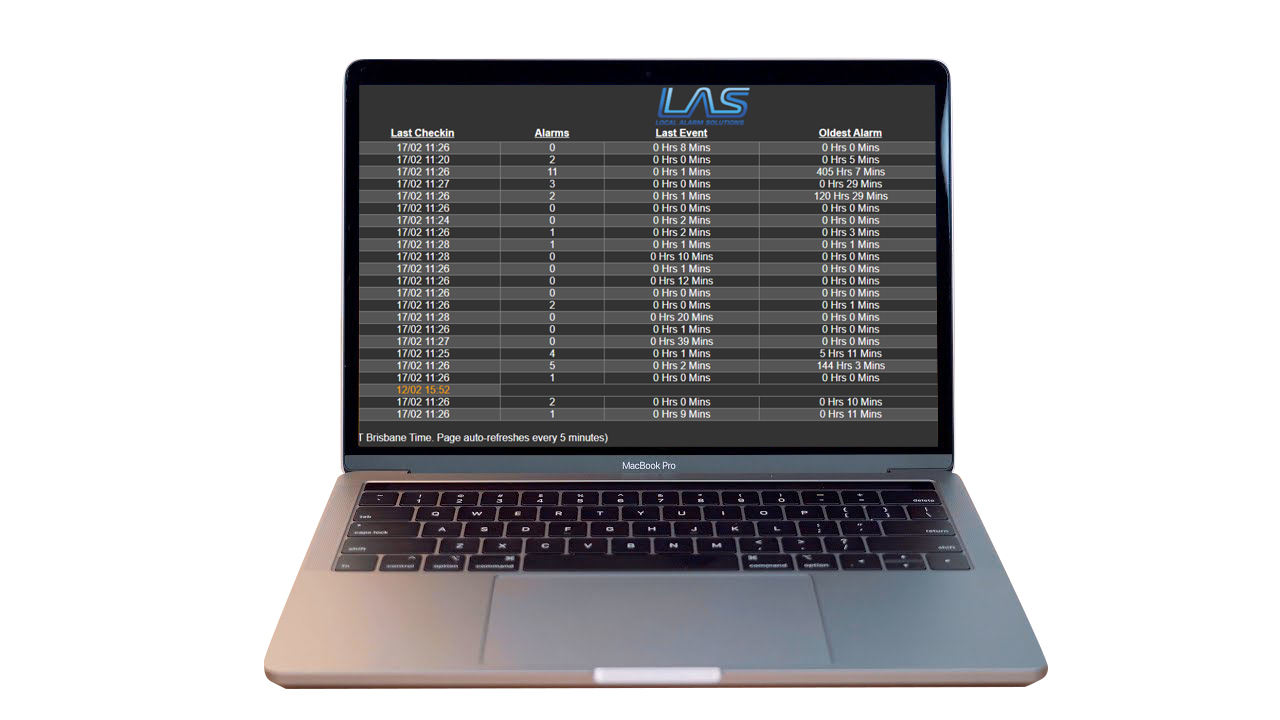 All reports can be exported from the system in either Word, Excel or PDF formats. 
Contact our team to see if LAS could work for you and your facility.
CCTV
Surveillance systems are vital for the protection of your staff, residents and facility
Carecom understands that safety and security are a vital part of any business, which is why we offer the latest CCTV technology and a comprehensive range of Network Video Recorders (NVR), cameras and equipment for all budgets and requirements.
Surveillance systems are vital for the protection of your staff, residents and facility, and will record and monitor all the movements of anyone who enters and leaves your buildings and staff movements within buildings, along with providing out-of-hours surveillance. CCTV systems deter crime, collect important evidence and records of activities, and give peace of mind to staff and residents. 
If you are managing multiple sites, Carecom can also offer enterprise Video Management Software (VMS) to make monitoring and managing hassle-free.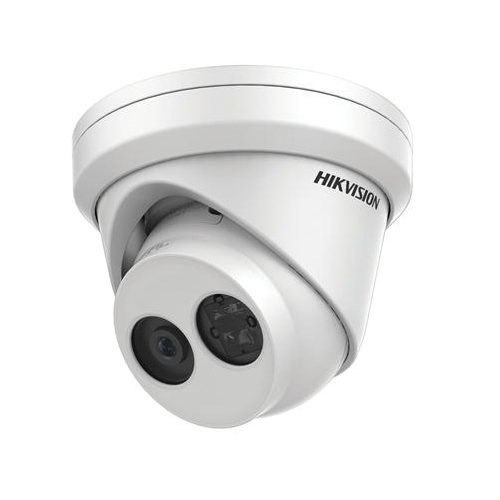 Carecom is a licenced security advisor and one of our expert team can come onsite to assess and advise on the best security solution for your facility.
Access Control
Protect and restrict the access to your facilities with the increased security of an Access Control system.
Carecom offers installation and maintenance on stand-alone and fully integrated Access Control systems for all commercial or industrial sites and facilities.
Having the ability to easily and confidently monitor the movement of people, vehicles and materials in and out of your site is of crucial importance, and an Access Control system acts as the first line of defence in your electronic security system. 
Our expert technicians work with a wide range of systems, which include features such as:
Proximity recognition

SmartCard/MiFare swipe card readers

Key-operated doors

Digital keypads

High-end biometric identification systems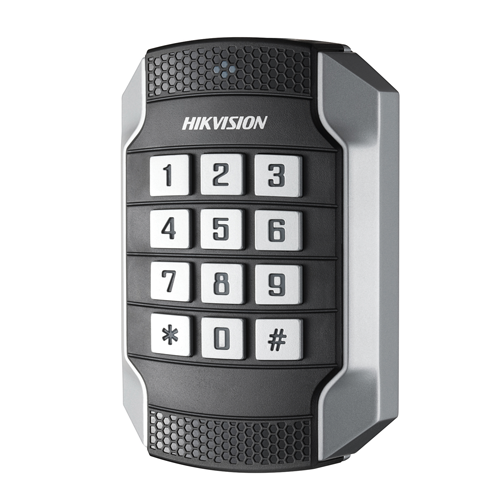 DECT and Paging
Seamlessly communicate within your facility with a Carecom DECT and Paging system designed specifically for the healthcare industry.
We specialise in providing DECT and Paging audio solutions designed to integrate with Nurse Call and duress systems. 
DECT (Digital Enhanced Cordless Telecommunications) is recognised as the optimum solution for enabling reliable communication between staff and management on the go, along with allowing families to contact residents and staff to receive Nurse Call alarms. DECT handsets are robust, easy to use, and can be used for voice calls and text messaging – providing improved efficiency and better customer response times using secure technology. Paging is a reliable one-way communication system ideal for ensuring that, even if your network is down, you will still be able to communicate effectively through your wireless paging devices.

Our devices integrate with any type of event-triggered communications point, and all types of wired and wireless networks and systems using a range of interface options. 
Carecom offers servicing and repairs for all DECT and Paging systems we install for extra peace of mind. 
Resident Wandering Systems
Take the stress out of monitoring your patients with an integrated Wandering System. Carecom offers a stand-alone or site-wide patient wandering system which can be integrated into your new or existing Nurse Call system
This system will allow your staff to focus on their day-to-day tasks, knowing they will be immediately alerted if any wandering residents or patients are near a door or at risk of absconding from the facility. The Nurse Call system will be instantly alerted to notify the staff so they can swiftly respond. Your system can also be set to night mode to allow alarms if anyone exits the door during the night. 
Carecom can source and integrate the most suitable Wandering System to your existing nurse call system, so you can offer increased care and security to your patients and residents.
Carecom can take care of the maintenance and servicing of your existing Medical Dialler systems to ensure your systems are reliable and operating effectively at all times.
Medical Diallers are telephone-based systems which work on 4G mobile network, any standard PSTN phone line and will work on most brands of PBX systems.
An asset to facilities of any size, they enable your nurse call alarms to be managed via a monitoring third party or for any alarms to be sent directly to the nursing home via multiple mediums for immediate response.
The benefits of a Medical Dialler system include:
no cabling required for install

uses existing telephony infrastructure

automatic self-testing

battery backup in event of power failure

hands-free talk back

programmable to many devices such as smoke detectors, wireless pendants or call points.
Ongoing Maintenance and Servicing
Service Level Agreements
If you would like Carecom to partner with your facility for the ongoing maintenance and servicing of your systems, we offer Service Level Agreements for a transparent outline of expectations, costs, response times, along with prioritised service support and delivery.
An SLA allows you the confidence to know that if anything goes wrong, you can call us and our technicians will be there within the agreed time to assess and provide expert solutions resolving any issues. 
Carecom has the experience and capabilities to take care of all servicing, from maintenance to system optimisation and integrations. We understand how important it is to have reliable communication systems, and we will ensure that they are always operating effectively for the care of your patients and the efficiency of your staff. 
We recommend that before we enter into any SLA, we provide a Nurse Call Audit as an initial service for a full functional test of your system, along with our recommendations to bring your system in line with all required standards.
Nurse Call Audits
Make sure your system is operating effectively with a Carecom Nurse Call system Audit.
Our technician will conduct a full site audit of your Nurse Call system, providing a full report of all findings and recommendations, along with fixed prices to resolve any issues.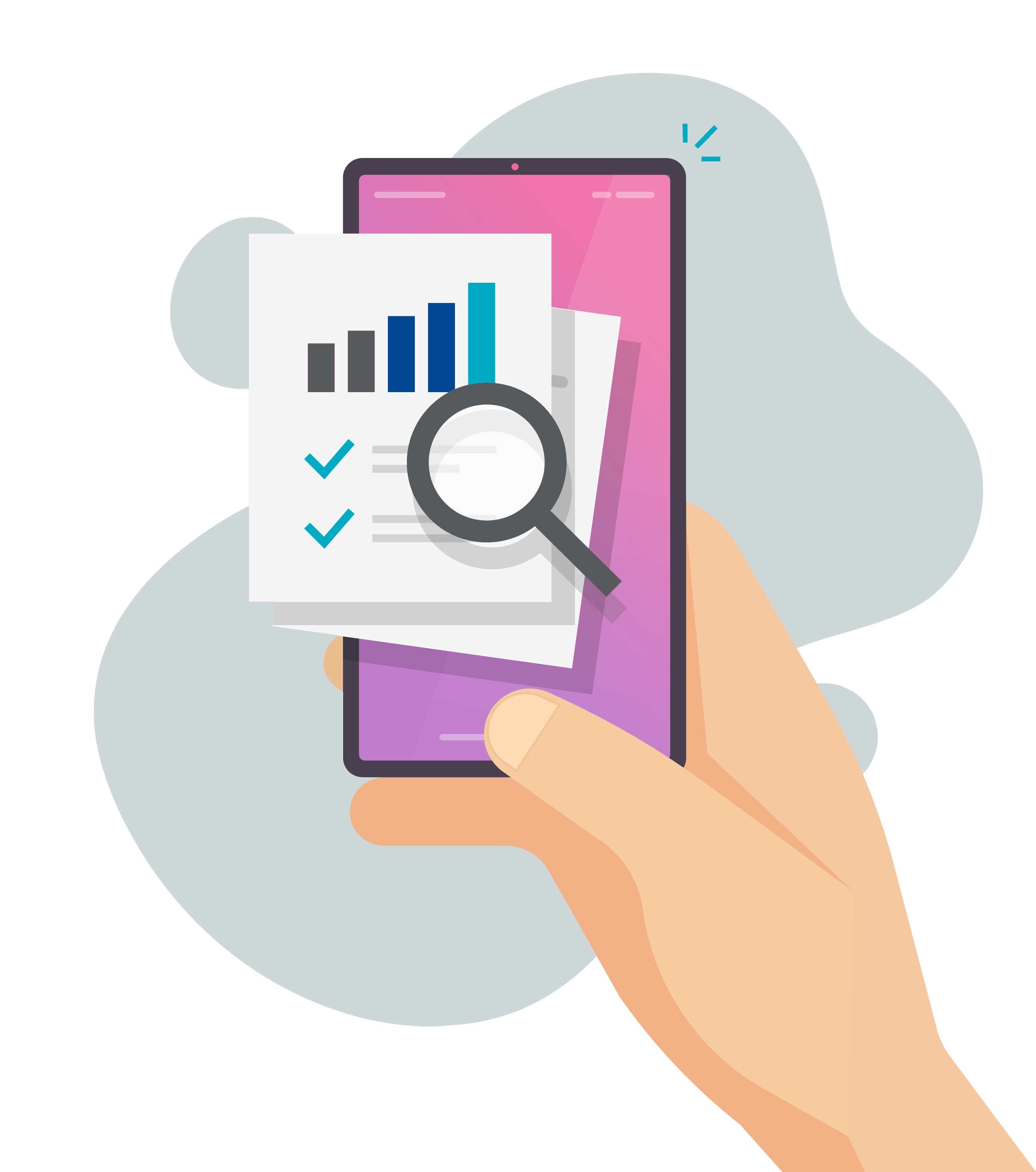 Your audit will include a:
Complete functional system test 

Detailed report of all tests conducted 

List of system recommendations 
Your report can then be kept on file for any future Government compliance checks.