We design advanced Nurse Call solutions that help facilities improve their processes, safety and quality of resident care.
Partnering with CareTech Systems provides effective synergies for our clients, offering systems that meet the specific and diverse needs of the Australian market.
CareTech IP Nurse Call systems allow for real-time monitoring, sending messages back to both IT staff and our team at Carecom, alerting any issues. Each IP Nurse Call point caters for Real-Time Location System (RTLS) hardware, allowing nurses to check-in (staff presence) to the room without any interaction.
We offer full IP and serial Nurse Call systems. Both are designed for future expansion, offering RTLS and have the capability to have wireless integration.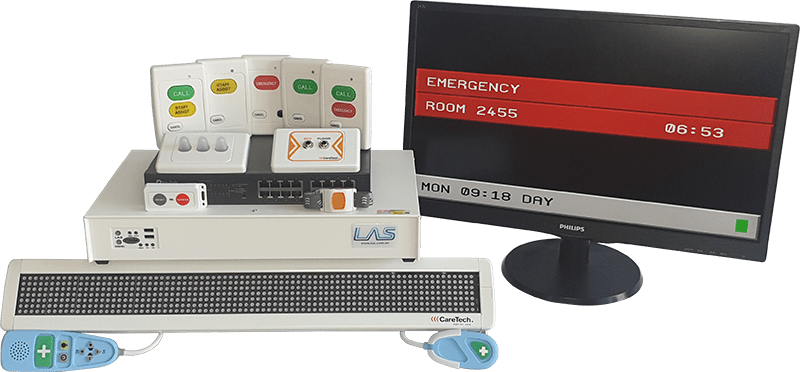 Carecom offers reliable and robust Wireless Nurse Call solutions where existing cabling is not up to standard or new cabling is not permitted.
The Wireless Nurse Call system is compatible with Carecom accessories and has the following features:
9V lithium battery with a 12-month battery life

Battery cable hook

Compatible with CareTech IP and serial system

24Vdc hard powered

no maintenance required

used with a double button pear push pendant

3 x inputs and contact to ground

1 x output with the ability to switch electronic relay and turn on/off overbed light

call points are available in a range of configurations
Medical Diallers
Carecom offer medical alert diallers which integrate to a wide range of Wireless Nurse Call products.
Nurse Call Audits
Carecom conducts a full site audit of the Nurse Call system, and provides a full report of findings and recommendations, with fixed prices to resolve any issues. Compliance is essential with a system such as Nurse Call, ensuring the system is operating to an optimal standard.
Real Time Location System
A Real Time Location System (RTLS) is built into the hardware of all hardwired CareTech Nurse Call points. RTLS allows staff members to move freely around the facility and collects their locations as they move.
When a staff member enters a room, RTLS activates a presence event. This system can also be used for asset tracking and management.
An RTLS system built into the CareTech Nurse Call system is available, and a stand-alone system which has been specifically designed for healthcare environments is also available.
The RTLS features are activated or deactivated by the Nurse Call software giving flexibility when needed.